February 2023
Interview on Radio Dacorum with author Leslie Tate, talking about my work developing animal characters like Tom Mouse, work with Michelle Porte-Davies on Paddington Bear, Create and Craft and my childhood influences....
Thrilled to announce that I've been accepted as a fellow with the RSA, a societal change organisation.Take a look at the latest thinking and areas of work
here
May 2022-Interview With #LondonBookFair
My 5 minute
interview
with @LondonBookFair up here - discussing #illustration, Cornwall, Sun the pit pony and the Metaverse. Yep.
Christmas 2021 - Little Bear
So pleased to have been awarded a Purple Dragonfly award for excellence in children's literature alongside talented writer Agatha Rodi for 'Amelie Gets Busy!' The book has now developed into a duel language book called 'Amelie Is Impressed', available as English to Greek and French to Greek textbooks and published by 24 Grammata. 
November 2019
Art Wow are now making some of my designs into home and giftware as well as stationary and prints. All the products are handmade in the UK and are a beautiful quality, so I'm really pleased to have my work accepted onto the site. Take a look at some of my illustration here at
Artwow.co
I'm excited to work in a new style and am looking at characterisation for children's books in this bright pop art look. The work is inspired by Majolica pottery from the 19thC, all whimsy and colour, but of course also pop art with a touch of Dia De Los Muertos, Mexican Day of the Dead bright sugar skulls and ofrendas thrown in.

November 2018
The much awaited picture book 'You Can Do It Tom Mouse!' is available from the end of November at all good book shops and via new publisher
www.tommouse.co.uk 
There is also a small batch of plushy toys that are just adorable, and definitely worth grabbing before they are all gone!
June 2018
I'm pleased to say that I am now the Associate Expert Illustrator for Fundamentally Children. The company founded by Dr Amanda Gummer is behind the Good Toy Guide, offering expert accreditation for games, apps and books. Fundamentally Children also offer consultancy, retail play days and pre production services, among a whole range of other assistance. Take a look at their website and my profile here 
https://fundamentallychildrenhq.co.uk/additional-services/meet-our-associates/
​​​​​​​
February 2018
I've been working with some brands one of which is Dinosaur Roar - here's me showing you how to draw a couple of the many Dino characters, filmed by Pete Bilk. We had a roar of a time or a Rarrrr of a time doing this. Books for all the Dino's will be published by Macmillan Children's Publishing and you can find out more about the world of Dinosaur Roar here!
 https://www.dinosaurroar.com/
October 2017
I'm pleased to announce that I am now represented by The Illustrators Agency! They are a global agency working with some amazing brands and represent some of the most versatile and established illustrators - take a look at my page here 
http://theillustratorsagency.com/joanna-scott/
Hurray!
December 2016
What an exciting year! I've been working with a major brand on children's books, which I cant tell you about yet! We successfully completed The Herts Hidden Heroines project, on which I worked as Lead Artist.A beautiful book has come out with some of the women we uncovered and that I illustrated. So at this point I'd like to wish you all a restful and happy Christmas period and a fresh and dynamic New Year! Phew!
The British Quinoa Company Packaging - May 2016
This year I was lucky enough to work with the lovely people at The British Quinoa Company on the illustration for their new organic quinoa boxes. The design below was adapted from a sticker that I had already created for BQ in pencil and watercolour. I worked on the new elements and altered the sizing in Photoshop so it would fit the new box.
The graphic design was done by Steph at Source Design and I think works perfectly with the illustration.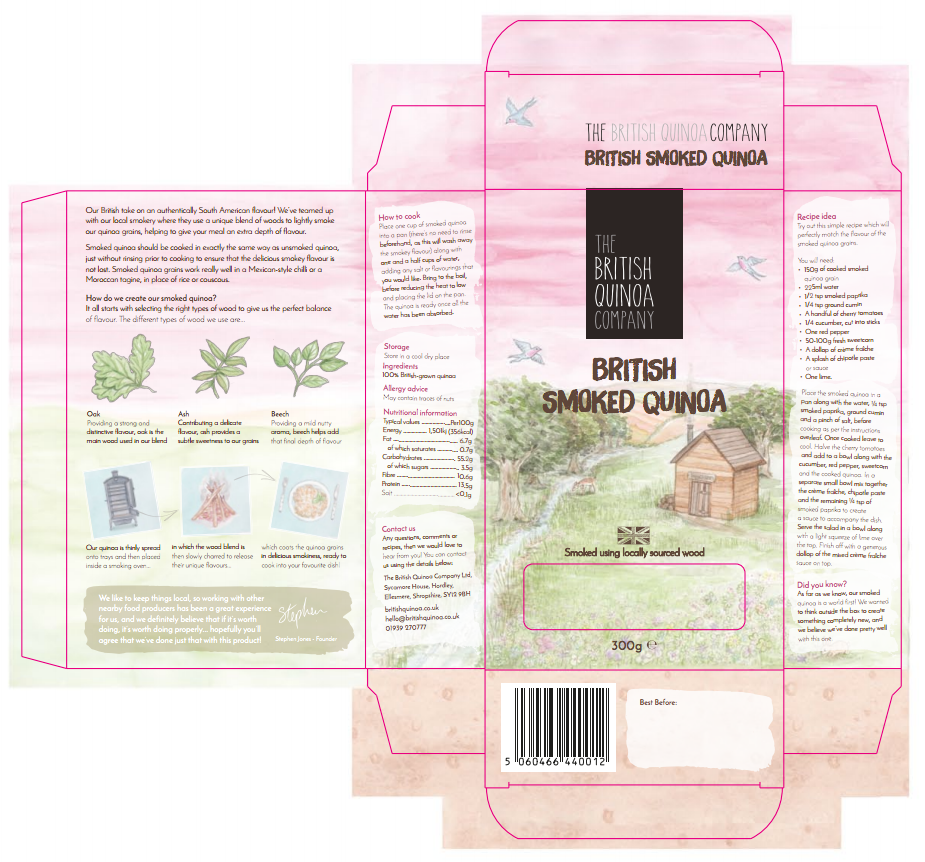 Its lovely to see the work produced at such a high standard in print and the suppliers of the boxes are growing, its now available in lots of different farm shops and organic produce outlets...
Herts Hidden Heroines - Lead Artist and Illustrator Sept 2015 - November 2016
In September 2015 Trestle Theatre won funding from The Heritage Lottery Fund to discover and celebrate the historic and everyday heroines of Hertfordshire.  I worked on many aspects of this project, one of which was creating interactive elements for the exhibitions - below is the large colouring page which we had at A1 size so that people could colour and perhaps remember some of the women we have uncovered.
Its a wonderful project lead by Producer/Writer Anna Reynolds, a heroine herself, and has achieved so much - click the drawing above to go to the website to see, not only my illustration work, but the large amount of community work created by schools, groups and organisations to celebrate the forgotten women of Hertfordshire.